For a summary review you can go to
Goodreads
or
Amazon
.
You can buy his novel in paper back or for kindle at
Amazon US
and
Amazon UK
.
Click
HERE
to find out what is going to happen to reviews in the new year.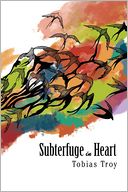 Title:
Subterfuge in Heart
Author:
Tobias Troy
Released:
3rd April 2012
Genre:
Magical Realism/Fantasy
My Rating:
★★★★ (4.5 out of 5)
Description:
His life was one peculiarity after another. He had no perception of his name, be it spoken or seen. Then came his dreams, where slipping in and out of alternate worlds was all too easy. But what of David, the boy next door? With an aptitude for tampering with reality, David exhibited abilities far beyond what any man should be capable of. As our nameless protagonist unravels the mystery behind his surreal existence, he becomes entangled in the affairs of the neighbouring world of Heart, where he is forced to face off against demons that he once held dear.

My Review:
I was so close to giving this novel five stars, but I had to settle for four and a half. Why? There were some bits that stuck out for me that possibly shouldn't have. I'm not going to go into detail here, because I try not to give away spoilers in my reviews. Personally, I didn't know what to make of the ending. It was climactic in its own way, but I'm not sure it was anything like I expected which threw me off.
Anyway, don't think that I'm beating this story down; I did give it four and a half stars for a reason! Tobias Troy's writing is exceptional. It is obvious that no word is wasted in this novel, which allows the reader to read with ease and I daresay enjoyment. The novel is fluid and well rounded. The character, and plot, arcs are well developed.
The story itself stems from a concept we are all familiar with. I found it to be a coming of age type of novel where the protagonist finds himself. Troy has taken this premise to new levels with his inclusion of magical realism. The result is a fantastic read that is certainly unique. I recommend this to the YA/Adult market. As it involves a lot of swearing, I'd advise younger readers to stay away from it.